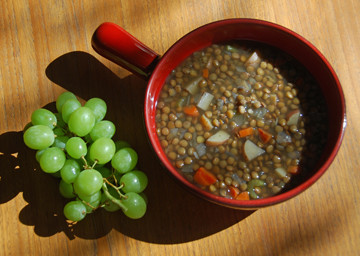 Made a nice pot of lentil soup this afternoon, filling the house with its pleasant aroma. Simple ingredients included chicken broth, carrots, potatoes, garlic, basil, pepper, celery, an onion, a couple of bay leaves, and of course lentils. Diced everything up and cooked for about a half hour. Just had a bowl and it was delicious!
Soups were undoubtedly invented as a means to finish up whatever food was leftover from prior meals. Just toss in whatever is on hand and see how it turns out! I've always enjoyed eating and making soups--and salads as well--because they are both easy and nutritious.
Speaking of food, environmentally conscious company SweetGreen recently put together this neat little piece showcasing different school lunches from around the world, and it's quite an eye-opener. Check out the gallery here.