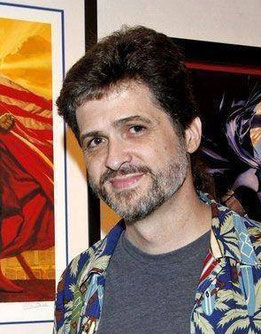 My pal Glen Orbik died on May 11th, and I doubt I will ever get over it. He was only 52 when the damn cancer finally caught up with him, and it seems tragic and impossible that such a benevolent man is gone. As my wife said: "He was larger than life."
I won't tell you about what a world-class artist Glen was, because his work speaks for itself. But I can assure you that he was a stellar human being--a talented, dedicated, passionate guy who cared deeply for others and for his work. He seemed to have a lot of fun in life, treating it as a kind of game to be played, and he played it better than most--right up to the end.
Glen loved the craft of drawing and painting: the visceral feel of pencils and brushes in his hands, the smell of charcoal and paint. He loved to manipulate the shapes, values, edges and colors that breathed life into his remarkable creations. He loved to teach, loved his thousands of students, friends, and devoted fans, and they loved him in return. We will never forget his sharp wit, his honest and accurate art critiques, his boundless energy and open-handed encouragement, and of course, his marvelous artwork. Most of all (and who can blame him), Glen dearly loved his elegant and supportive companion of many years, Laurel Blechman. 
Here are some words that come to mind when I think of Glen: humorous, clever, smart, generous, gifted, flamboyant, wise, witty, handsome, dashing, forthright, honest, caring, humble, kind, exuberant, honorable, hard-working, playful, remarkable, steadfast, fun-loving, exceptional.
"Aw, shucks," I can hear him say.