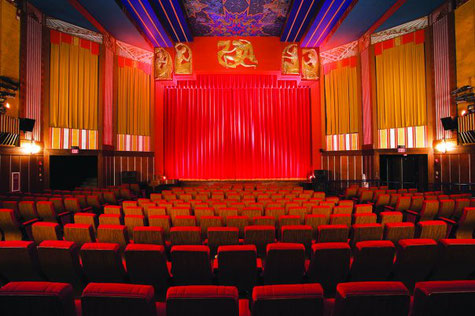 Those of you who have known me for a while are probably aware that I majored in English Literature in college, that I have a deep affinity for human stories--well told--and a profound love of language. But not many know that I also received two additional and equally important "educations."
My second education came care of a dank old art deco movie-house in Los Angeles called the Nuart, set resolutely on Santa Monica Blvd. near the eclectic and now-defunct "Papa Bach" bookstore. The Nuart primarily screened foreign films that changed every evening, listing a short synopsis of each in a handy calendar made available every month.
In the late 1970s, my like-minded cousin Paul and I met at the Nuart up to three nights per week, where we devoured double-features of some of the greatest films and film-directors of all time: Bergman from Sweden; Kurosawa, Ozu and Oshima from Japan; Godard, Truffaut, Renoir, Breton, Malle, Resnais and Tati from France; Bruñel and Saura from Spain; Lang, Wenders and Herzog from Germany; Polanski and Kieslowski from Poland; Eisenstein and Tarkovsky from Russia--in addition to American greats such as Welles, Kubrick, Coppola, Scorsese, Ford, Altman, Wilder, Hitchcock, Kazan, Lumet, Cassavetes, Keaton, Lang, Hawks, Huston, Peckinpah--and so many others. We did this for years, and probably saw hundreds of films. I can't speak for my cousin, but for me, seeing all of these wonderful (and sometimes difficult and painful) movies was my introduction to what I like to call the "ethos of elsewhere." In simple terms, seeing these films enlarged my worldview considerably and permanently; it was a second education that I consider to be even more compelling than the one I received in college.
In 1997 I began working at a job that required a considerable commute, driving up to four hours each day. I held this position for eleven years, traveling some 440,000 miles--roughly the distance to the moon and back. Oddly enough, all of this driving gave me the opportunity to acquire my third and perhaps greatest education of all, for I frequented public libraries along my route, and there discovered numerous audio books that interested me. Over the years I listened to hundreds of narrated texts, quickly learning not only who the best authors were (Dostoyevski, Kafka, Steinbeck, Hemingway and Nabokov are certainly at the top of the list), but also the best book-readers. George Guidall was by far my favorite and I swear, that guy could read a phone book and make it sound good. 
So there you have it: my three educations. All-told they are the best things that have ever happened to me--besides marrying my wife, of course!